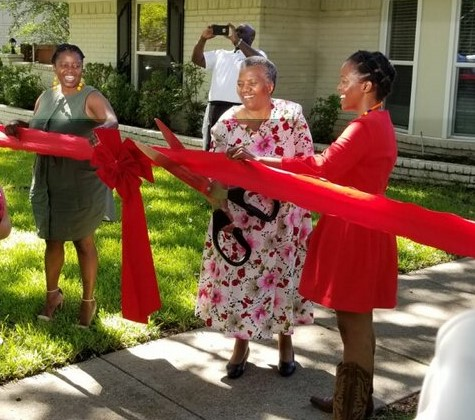 Welcome to New Horizon Homes! We are a residential assisted living facility dedicated to providing high-quality care in an environment that embodies love, family, and cultural understanding. Our founders, Epi, Buhle, and Buke Dube, bring with them a rich cultural background rooted in Zimbabwe, where elders are revered and cared for within multigenerational systems.
As an immigrant from Zimbabwe, our founder Epi recognized the need for a better way to deliver care to residents in the United States. Working in nursing homes and assisted living facilities in Texas, she witnessed firsthand the importance of creating an environment that closely resembles the loving and supportive atmosphere she was familiar with in Zimbabwe. With a passion for providing white-glove care without breaking the bank, Epi founded Greenfield Homes of McKinney, which later expanded to become New Horizon Homes.
Buhle Dube, Epi's daughter, joined the family business after bringing her legal and compliance experience from corporate America. As a graduate of Oklahoma City University's law school, Buhle ensures that our licensed facilities not only meet state compliance standards but always do what is right and in the best interest of our residents. Buhle's dedication to providing exceptional care is influenced by her own family, as she resides in Dallas with her husband and two children, who attend school at Hockaday.
Bukekile Dube, also known as Buke, serves as the CEO of New Horizon Homes and is a highly accomplished and influential figure in the senior assisted living industry. With a successful 10-year career in finance spanning multiple continents prior to joining New Horizons, Buke's desire to bridge the gap between her personal success and limited opportunities for women in her community led her to further her education. In 2013, she earned a Master of International Affairs degree focused on economic development from Columbia University.
Under Buke's visionary leadership, New Horizon Homes provides personalized service to each resident, ensuring that their unique needs and preferences are met with utmost care. Buke's commitment to making a positive difference extends beyond our facility, as she dedicates her time and expertise to various impactful initiatives and serves on the boards of Impact City Dallas and Miles of Freedom.
Outside of her professional and philanthropic endeavors, Buke shares a love for exploration, knowledge, and contemporary African art. She enjoys traveling, researching, and immersing herself in diverse cultures, continuously shaping the senior care landscape with her visionary leadership.
At New Horizon Homes, we are proud to provide a warm and compassionate environment where residents receive excellent care while preserving the cultural values that our founders hold dear. We invite you to experience our unique approach to assisted living and join our close-knit community.